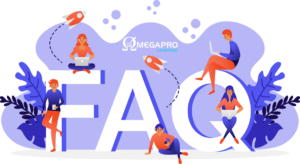 WHAT IS THE DIFFERENCE BETWEEN OMEGA PRO AND CRYPTOCURRENCY BROKERS?
Cryptocurrency brokers or exchanges are companies that buy and sell digital currencies within their own platform for this purpose, for example, the companies Binance and Mercado Bitcoin. OmegaPro works with the management of these assets through forex operations, with the client/investor paying monthly in variable percentages. Thus, OmegaPro does not buy or sell crypto assets for its customers, it only manages them.
WHAT KEEPS OMEGA PRO OPERATIONS SAFE?
Strategy! In a highly volatile market, OmegaPro takes advantage of stock price movements, and the more they move, whether down or up, the greater the chance of profit. As a result, Omega Pro has the best team of financial asset traders who operate taking advantage of the high volatility of the markets.
On an administrative level, Omega Pro maintains a strong financial management system, while meeting all compliance and governance requirements established by its legal department.
What are the regulations for this market?
You are subject to all laws of the state, province and/or country in which You reside and from which You access OmegaPro's website and You are solely responsible for obeying those laws. The Affiliate is not an employee of OmegaPro, nor any associated company and must not claim to be so. The Affiliate is responsible for all taxes and fees based on all the bonuses, points, trading outputs, FIAT currency or cryptocurrencies received from the bonus system of OmegaPro. In case that OmegaPro will be liable for any tax or fee based on your bonuses, points, Promotion Codes, mined trading output and other remunerations to You as a Affiliate, you agree and accept to indemnify and hold OmegaPro harmless for this and accept that OmegaPro can claim liability and withhold already generated and future bonuses, points, trading outputs and future trading outputs, Promotion Codes and other remunerations to cover any payment of taxes or fees for the Affiliate. OmegaPro prefers that the Affiliate apply to become an Affiliate as a corporation. If any government entity determines Affiliate is subject to wage withholding, the Affiliate agrees to form a corporation or to execute such paperwork or take such actions as is reasonable to establish that the Affiliate is not an employee of OmegaPro or OmegaPro will have the right to terminate Affiliate agreement forthwith upon written notice. If the Affiliate forms a corporation, then upon request by OmegaPro the Affiliate shall provide documentation that a corporation has been formed and is in good standing with government entities. If the Affiliate forms a corporation, then all commissions under these T&C from OmegaPro to the Affiliate shall be made payable to the Affiliate's corporation. Otherwise, payments shall be made payable to the trade or business name of the Affiliate. If any government or authority demands that OmegaPro pays a tax, fee, social insurance, VAT on Your purchased product or service or insurance contribution on behalf of the Affiliate or in regard to the product and/or services the Affiliate has purchased from OmegaPro, you agree that OmegaPro withhold these taxes and fees from You from already received and future bonuses, promotion codes and trading outputs. If OmegaPro suspects that You breach against any law e.g. use a stolen credit card or otherwise makes a fraud or an attempt to fraud, OmegaPro can with immediate effect suspend Your status as a Affiliate, block all Your bonuses and take other legal action against You without further notice. You agree that OmegaPro cannot be held liable if laws applicable to You restrict or prohibit Your participation. OmegaPro makes no representations or warranties, implicit or explicit, as to Your legal right to offer the products that OmegaPro from time to time offers, nor shall any Affiliate, or claiming affiliation, with OmegaPro have authority to make any such representations or warranties. OmegaPro reserves the right to monitor the location from which You access OmegaPro's Websites and to block access from any jurisdiction in which participation is illegal or restricted..
WHY IS THE INCOME INDEX VARIABLE?
The financial operations market is quite volatile. As a result, no fixed income from these assets can be guaranteed.
ARE THERE LICENSE LIMITS PER PARTICIPANT?
OmegaPro does not define a maximum number of licenses (plan/package contracted), leaving it up to the customer to make purchases based on their own capabilities. In terms of value, there is a minimum license value, which is the minimum amount required to operate in the financial asset market. You can get more information directly from a broker by visiting our website.
What is BITCOIN?
Bitcoin is a decentralized digital asset based on blockchain technology. Its objective is financial trading without intermediaries. Today, the most common use is to buy and sell goods or services over the internet.
DO I NEED TO HAVE A CRYPTOCURRENCY WALLET TO BECOME A COMPANY CUSTOMER?
Yup. As the company specializes in financial operations and operates globally, all payments are made through cryptocurrencies. In this way, registering and creating your cryptocurrency portfolio with the exchange is the first step to start your investments. From there, your consultant will guide you through the process.
How to open a cryptocurrency wallet?
After selecting the national broker and your preference, just follow the steps indicated on the website. You will need to show your documents and some personal information.
WHAT IS A NFT (NON-FUNGIBLE TOKEN)?
They are recorded by the blockchain system and the data is very secure, scrambling to prevent eavesdropping. In this way, any digital asset (art, games, codes, videos, collectibles, etc.) can be converted into NFTs and traded.
What are the existing cryptocurrencies?
Currently, there are 100,000 to 15,000 cryptocurrencies, which can also be classified as altcoins, which are alternatives to Bitcoin; Stablecoins are cryptocurrencies paired with fiat currencies, and one unit is equivalent to one unit in your currency pair, regardless of whether it is dollars, reais or euros. An unlimited number of cryptocurrencies can exist as new codes for these assets are created daily, often to meet specific needs. Keep track of this growing number and a detailed price list for each cryptocurrency via the website: https://coinmarketcap.com/
Will I receive income every month?
Yes, as specified in the contract and on a pre-determined date. Always through your cryptocurrency wallet.
CAN I RECEIVE MY COMMISSIONS AND LEAVE IT IN THE WALLET?
Yes, after the payment of your crypto assets you have complete freedom in your trading.
IS IT POSSIBLE TO RECEIVE COMMISSIONS IN CASH?
No, our entire OmegaPro business relationship is carried out through cryptocurrencies.
HOW DO I BECOME OMEGAPRO CUSTOMER?
The first step is to contact one of our official brokers on this website: https://registerforex.com/ng/ they will introduce you to the business model and how the company works. From there, you can collectively decide which participation option is best for you.
Where do I find my Invitation Code?
Click here and you will be automatically registering with a Broker/Consultant from our team
Does OmegaPro have network earnings (profits on people you invite)?
Omega Pro works along the lines popularly known as Multilevel Marketing or Network Marketing, and there is a bonus with indirect levels) that is, a percentage of varied under the results directly and indirectly of who you invite to become a new customer.
When will the referral commission be added to my account balance?
It will be added to your account balance immediately after the end of the calculation of the profitability result of your referred client.